Ready to dance? Alumni of the EPRIE Program organize an empowerment workshop through waacking! Beginner session, free of charge. Open to everyone, including non-dancers. Empowerment workshop aiming to create a safe space of creative expression for racial as well as LGBTQ+ minorities and their allies. Wear comfortable clothes and shoes. Heels are optional.
Registration
Please register and submit questions via e-mail to dahye.yim@koreaverband.de.
Instructor Profile
Ray Kyooyung Ra (a.k.a. Valentine)
6 years' experience dancing and teaching from South Korea
2013 "Union Performance" Showcase
2014 "Level 6 Studio Party" Showcase
2014 "TBWA Mangchi" Presentation on Streetdance
2015 All-genre performance team "Kill Heel" (w/ Vicky, Chucky)
2017 "FRZM Show" Showcase
2018 Flowmaker-hosted "K-pop Alive in Seoul" Showcase
2019 "STAGE631" Showcase
About Waacking
Waacking originated from the LGBT club scenes of 1970s California. Originally the dance form was called punking, the word punk used as a derogative word to describe the queer population then. However, the dance scene embraced the word punk to reappropriate the word into a positive meaning to describe their dramatic performances in the underground gay discos. With commercialization and popularization of punking, the dance came to be called waacking.
Waacking, much like the dance form voguing which developed in the gay communities of 1970s East Coast that was mostly inspired from the fashion industry and magazines, provided a creative and expressive safe space for the LGBT community. Despite the violent backlash against the then-popular disco music as well as the AIDS epidemic that resulted in the deaths of most of the original punkers and waackers, the spirit of the dance and its social significance is still carried on to the contemporary world by dancers today.
The dance allowed for the LGBT community to be incorporated into the mainstream society and entertainment industry. Especially for the racial minorities within the LGBT community that had an even narrower standing in the heteronormative society, the gay discos and the art of punking and waacking were an underground haven where the queer dancers could forget the discrimination and forced normality of the 'overground' world.
Program
BERLIN 23-24. March. 2019
DAY 1: Beginners' Waacking Workshop
Time: 23rd of March, 1pm – 4pm
Place: Kwon, Jae-Hwa Taekwon-Do Berlin (Turmstraße 57/58, 10551 Berlin)
DAY 2: Creative Expression Workshop
Time: 24th of March, 1pm – 4pm
Place: Kwon, Jae-Hwa Taekwon-Do Berlin (Turmstraße 57/58, 10551 Berlin)
*Evaluation and after party: Korea Verband (Quitzowstr.103, 10551 Berlin)
Activity Schedule
DAY 1: Beginners' Waacking Workshop
1 PM – 2 PM: Lecture
A talk on the history of waacking, a style of dance created
by gay black and Hispanic men in 1970s America and its
impact on empowerment movements elsewhere.
Brief discussion on disco music, voguing, and other forms
of art that were related to LGBTQ rights in history.
2 PM – 4 PM: Training
Basic elements of waacking (extension, posing, walking,
twirls…)
Discussion on dance and how to develop your musicality
Learning a choreography that incorporates the elements of
Waacking
DAY 2: Creative Expression Workshop
1 PM – 2 PM: Training (Part 1: "Tangled Movement")
Ice-breaking session designed to help dancers learn how
to react to each other and develop teamwork.
2 PM – 4 PM: Training (Part 2 "Reaction")
Discussion on the history of waacking in relation to dramatic
arts and learning how to freely react to music in terms of
their own interpretation and creativity.
6 PM: Evaluation
8 PM: Party for participants and friends
Poster for the event: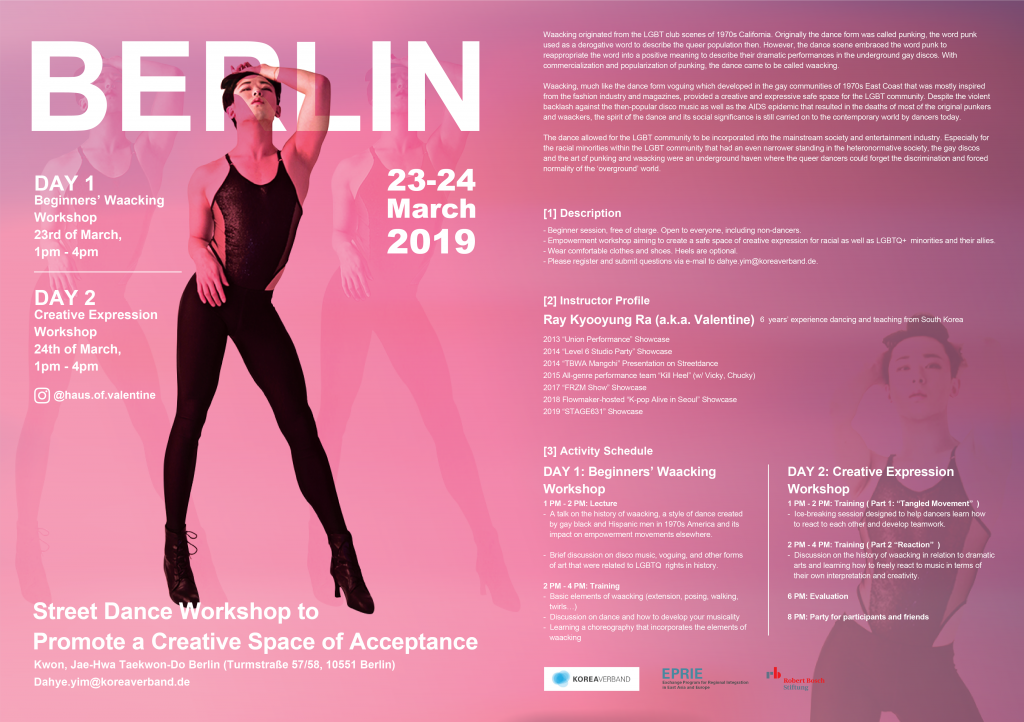 The project is funded by the EPRIE Project Fund (EPF) by Korea Verband and Robert Bosch Foundation.